Day 11
May 20, 2005 Usak
The text and the picture is submitted by Lincoln Blake e-mail: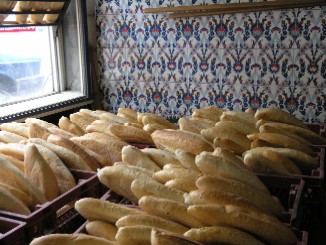 Our typical Turkish breakfast was enhance with dried fruit - apricots, figs and raisins. Some of us had enjoyed the hamam, massage, sauna, and running around in Turkish towel bathrobes the previous evening or early this morning. The Grand Ozer Hotel in Afyon was lovely. After breakfast, the group felt rub and the individual pieces arrived--great keepsakes! We had a chance to eat kaymak, a sweet in individual pieces made from the cream of water buffalo milk and walnuts, and seker sucuk--a long candy sausage made of pekmez and nuts. Our next stop was the Ozdilek or supermarket--the Meijer or Walmart of Turkey. We all had a chance to roam and purchase food, spices, clothes, towels, and bathrobes.
Back on the bus, Yvonne shared with us about jewelry and Rachel spoke about costumes and dress. A flock of storks, passing overhead, interrupted the presentations! We began to notice a change in the terrain--the red soil turned to white. We visited a Kutahya tile (ceramics) factory. Mustafa (of course) the owner, met us on the highway and led the bus through narrow streets to his place of business. Adim, the potter, threw some vases. Asked if he considered himself a craftsman or an artist, he replied he didn't make such distinctions. He learned his skills as an apprentice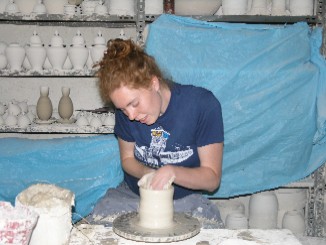 and continues to make the same shapes as his master but adds some personal touches.
Kutahya clay (the porcelain is made up of seven ingredients, mixed with a "yeast" and then mixed for ten hours after which the excess water is removed. Porcelain has a different consistency than clay--something like cream cheese. According to Nick and Galen, who had an opportunity at the wheel, it is harder to work with.
Designing and coloring Kutahya ware; is the job of women. We saw them drawing the design free-hand and painting. They felt they were born into designing! No name of potter or origin were put on the pieces. It was important, however, to indicate that the piece was handmade.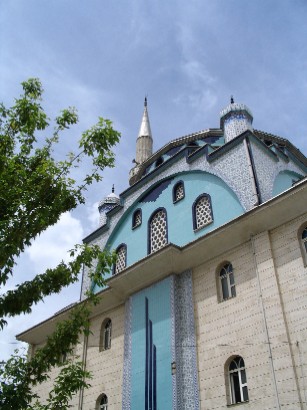 Our lunch-stop included lentil soup, some famous meatballs and pumpkin dessert with water buffalo cream. Delicious! At the Kutahya Archeological Museum, housed in a building built in 1374, we saw Phrygian grave stones and relics of the Mother Goddess (Kubaba).
We traveled through more mountainous terrain, crossed a second century bridge, and arrived at Aizanoi to find a double temple. On the bottom a temple to the Mother Goddess, not carved out of rock, but built on a circular pattern. During the Roman times it was used for storage. Built on top was a temple honoring Zeus, with beautiful columns and impressive carvings. We also visited the Odeon and the stadium, where Christine saw a corn bunting and red-backed shrike. We also enjoyed Meli's demonstrations of putting on headscarves and her explanation of how they represent different regions. It was a beautiful, windy day.
Back on the bus, Brent talked about the plant ecology of Turkey, and Meli about the impact of weather and geography on culture. The day ended with dinner in Usak!